Fri, 10/01/2021 - 9:00 AM
|
Andria
You've had twice baked potatoes before, but have you had JERKY twice baked potatoes?
The delicious shredded jerky mixed throughout these potatoes makes for a new spin on this classic recipe!
– Twice Baked Jerky Potatoes –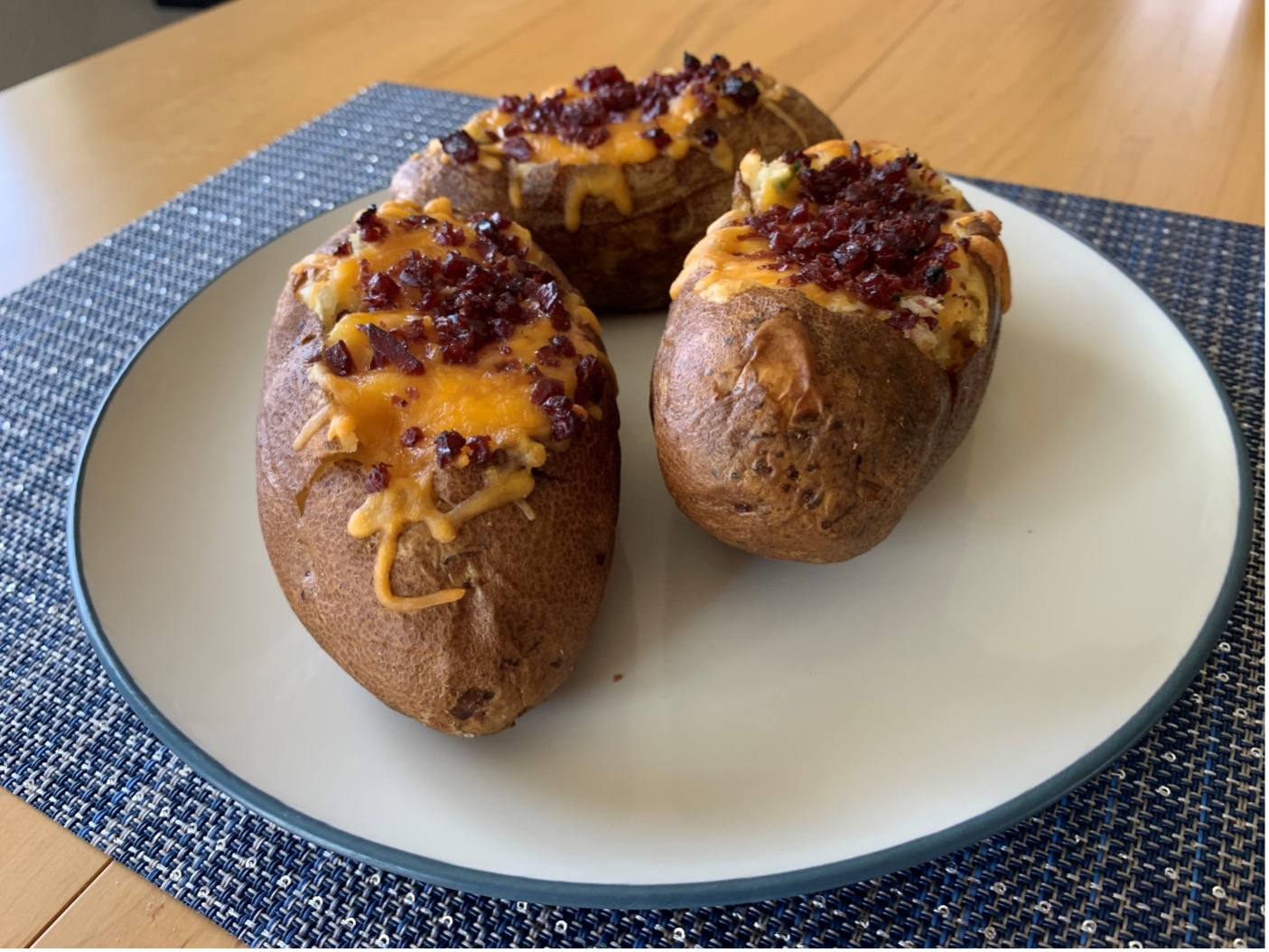 Ingredients:
5 large Russet potatoes (one potato you will just use the flesh for mashing)
Approximately 2 Tbsp olive oil to coat potatoes
Salt
4 Tbsp butter
1-2 cloves garlic, minced
1/4-1/2 cup milk
2 cups Cheddar Cheese, shredded
SharePak (8oz) Smoked Original Jerky, shredded
3 Tbsp chives, chopped
Salt and pepper to taste
Sour cream to top, optional
Directions:
1.  Heat oven to 400 degrees.
2.  Wash potatoes by scrubbing with a vegetable brush. Pat potatoes dry. Using a fork, poke several holes in each potato.
3.  Rub each potato with olive oil and sprinkle with salt.
4.  Place potatoes in oven on a baking pan.
5.  Bake 40-50 minutes, until skin is crisp, and potatoes feel soft when squeezed. Flip halfway through cooking, and sprinkle with more salt.
6.  When cooled slightly, cut an oval shape in the top of each of the potatoes. Carefully scoop out most of the potato flesh leaving 1/3 of an inch of flesh along the skin. With one of the potatoes, you will scoop the flesh entirely out and discard the skin.
7.  Mash the potato flesh with the butter, garlic and ¼ cup milk until smooth. Add more milk to adjust to the desired consistency. Stir in 1 cup of the cheese, 2/3 of the jerky, and chives.
8.  Add salt and pepper to taste.
9.  Spoon mashed potatoes back into skins and place in a 9"x13" baking dish.
10.  Top each potato with the remaining cheese and jerky. Bake at 375 degrees until hot and the cheese is melted, approximately 15 minutes.
11.  If desired, top with sour cream and additional chives.